There, I did it! All four Poulsbo breweries sampled in one day; and I did it all entirely by transit. OK, so I cheated just a teensy bit, but in my last post I never said exactly how I planned to do it. To get the lowdown, read on….
Any transit trip from the eastside of Seattle all the way over to Poulsbo and back presents some pretty major logistic challenges. And on this occasion I limited myself somewhat by deciding to do it on a particular Friday when I needed to be back in Bellevue before 7:00 p.m. This is where my teensy cheat came into play.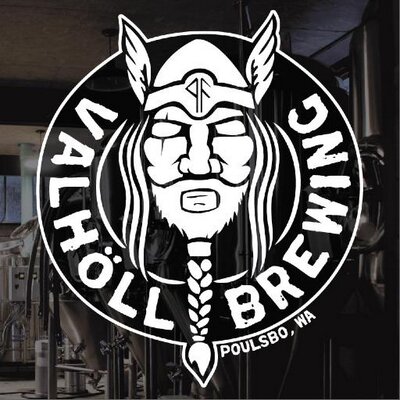 Of all the Poulsbo brewers, the only tasting room available during my itinerary was Sound Brewery – starting at 2:00 p.m. So I built my trip around finding a way to sample the other three brewers before visiting the Sound Brewery tasting room and finishing my day there.
The way to do this fell conveniently into place when Slippery Pig posted on Facebook that for the first time (outside of special events) all four Poulsbo brewers were on tap in one place: at the Hare & Hounds Pub.
As I firmly believe in the saying strike while the iron is hot, here's how it all came together…
---
To Poulsbo
Seattle-Bainbridge ferry
Walk to Front Street – visit Tizley's Europub and Hare & Hounds Pub
Walk along Jensen to bus stop on Iverson at Post Office
Bus to Finn Hill & Viking Way (Poulsbo Junction)
Walk along Viking to Sound Brewery
Back to Seattle
Walk back along Viking to the Poulsbo Junction bus stop
Bus to Bainbridge ferry
Bainbridge-Seattle ferry
---
Tizley's Europub (Facebook)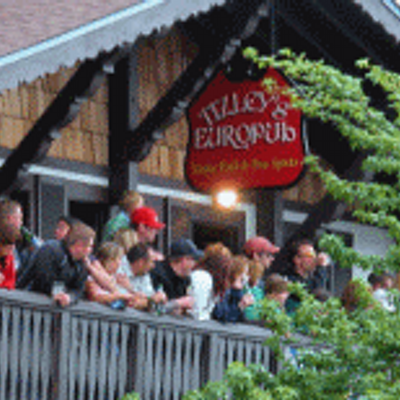 On my last visit to Poulsbo with The Spouse and The Daughter, we ate lunch and sampled brews at Tizley's. On that occasion I enjoyed a fantastic Belgian style ale from Sound Brewery: their Dubbel Entendre.
This time around, Tizley's had Sound Brewery on tap again – but none of the other Poulsbo brews.
Given that I would soon be sampling Sound Brewery at the source, I decided not to stop at Tizley's, instead I moved on to the Hare & Hounds.
However Tizley's is a wonderful pub with great food and, if you can get one of the balcony tables overlooking Front Street, it's one of the best places to drink a beer in all of Poulsbo. Unless you're on a mission like mine, I recommend you stay awhile.
---
Hare & Hounds Pub (Facebook)

Just as the Slippery Pig Facebook page suggested it would, the Hare & Hounds did have samples from all four Poulsbo brewers on tap.
The pub is British-owned and much of its decor, cask pumps, and memorabilia is from across the pond. The food is pretty authentic too – right down to the Scotch Eggs and other classic pub-grub.
Back in the megalithic era I used to frequent a pub in Newbury near where I worked at the time. A pint and pasty almost every lunchtime got me through the rest of my workdays. The Hare & Hounds in Poulsbo brought back fond memories of those dim and distant times.
In my photo, from left to right, is Valhöll's Pale Ale, Slippery Pig's Hog's Breath, and Battenkill's Old Tractor IPA. I remember enjoying the Battenkill IPA at the recent Bremerton Brewfest – it was just as good this time around. Not an in-your-face hop-monster as so many NW IPAs seem to be.
Valhöll's Pale Ale is a really nice, well-rounded brew: a fine balance between malty sweetness and hop presence. Might even qualify as an ESB in my book. And once again, Slippery Pig presented an astonishing brew – Hog's Breath, a strong, viscous, unfiltered Imperial Hefeweizen.
After spending a leisurely and very enjoyable hour or so at the Hare & Hounds in the company of  Effie (a very friendly and welcoming host – thanks), a short walk from the pub along Jensen Way led me to the bus stop outside the Post Office. I rode the bus from here to Finn Hill; then walked along Viking around 3/4 mile to Sound Brewery.
---
Sound Brewery (Facebook)

I think it's fair to say that Sound Brewery is leading the charge among Poulsbo's four breweries. Their brewing operation is by far the largest which enables them to gain the greatest exposure and word of mouth.
Right now, with it's explosive growth, Poulsbo may be the hottest beer town in the state of Washington. When people remark about this phenomenon, many have heard of Sound Brewery; they often have not heard of the other three.
Notwithstanding the fantastic Sound brews I previously enjoyed at the Washington Brewers Fest, the Bremerton Brewfest, and at Tizley's, it is largely because of Sound's scale – right out of the starting gate – that I have so looked forward to visiting the brewery.
And I was not disappointed: I enjoyed an hour of really great beer tasting at Sound Brewery. I would have happily spent much more time there if I could.
My sampler included everything listed on the blackboard plus a bonus cask ale.
My photo shows from right to left…
Humulo Nimbus – a potent Imperial IPA
O'Reagan's Revenge – a classic Irish Red
Tripel Entendre – a Belgian-style Tripel
Kristall Weizen – an unfiltered Hefeweizen
Reluctant IPA – Another NW IPA… blah!
Koperen Ketel – a Belgian-style Golden Ale
Belgian Style Stout (bonus) experimental cask brew – chocolate stout brewed with Belgian yeast – superb
---