When my time comes I'd like to believe that Odin will call me to journey to Asgard to spend eternity among the fallen heroes in Valhalla; but hey, why wait? Simply journey to Poulsbo and spend some time among the living at Valhöll Brewing. That's exactly what Mr & Mrs Fueled by Beer did last Saturday…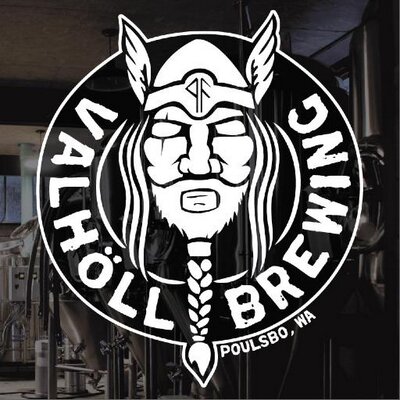 I'm going to make a confession right up front and say that this was not truly a Fueled by Beer transit trip. We drove across the Sound on the Seattle-Bainbridge ferry then continued to Poulsbo – but we did leave our car at the park & ride on the edge of town then walked in from there. Our visit coincided with Poulsbo's annual Americana Music Festival, which this year included a beer garden operated by Poulsbo's three amazing breweries: Slippery Pig, Valhöll and Sound. Naturally, such an opportunity was too good to pass up, and the brews being offered were excellent as always, but I'm getting ahead of myself.
After arriving in Washington State's Asgard, we started our day by first revisiting the Hare & Hounds pub for some food and suds to wash it down (update: the pub has since closed). We then headed over to the waterfront to the festival to down a couple of rounds at the beer garden, then we were ready to enter Valhalla (from the Old Norse Valhöll – get it). BTW, the music was excellent – we heard some very good local bands. And so eventually we arrived at the tasting room at Valhöll Brewing…
I love how these guys incorporate Old Norse mythology into their image and their beer. After all Poulsbo's Norwegian heritage – at least downtown – is overwhelming (in a good way). Valhöll named their brewery using the less familiar Old Norse word for Valhalla, and they've even named their Yggdrasil IPA using an Old Norse word. From the website:
Not your normal NW IPA. We consider the mighty hop as our world tree.
In Old Norse mythology Yggdrasil was the "world tree" whose branches supported the heavens above, and through its roots, the underworld below, tying together the nine worlds of Norse mythology. OK, that's enough of the spooky stuff; now to the beer.
Our six tasting samples matched the taps you see in the photo with one exception: We decided to leave out the Harvest Moon Amber, having already shared a pint of it at the Hare & Hounds earlier in the day. So, our samples were as follows: Abbey Wit; Yggdrasil IPA; Wet Hop IPA; Abbey Strong Ale; Crimson Cove Rye Ale with Cherry; Spotty Dog ESB. While we were both somewhat disappointed with the Wit, we liked all the rest, and we both agreed the standout of the bunch was the Cherry Rye – just amazing. It's worth the trip just for this one beer. Also, while we were tasting, we had the pleasure of meeting head brewer Jeff Holcomb, who interrupted his day to chat with us and provide very interesting insight and background to his brews.
So, to sum up. While we had previously enjoyed Valhöll brews at beerfests and pubs wherever we encountered them, that experience simply can't compare to a sampling at the source. I look forward to returning to Valhalla hopefully in the not too distant future. 🙂
For a true Fueled by Beer trip, ride the ferry to Bainbridge Island then take a bus to Poulsbo. Use the following map to build an itinerary from your point of departure. For even more details see my recent post Poulsbo Brews by Transit.
---
---