Since I wrote my original post on this topic I have revisited all three Poulsbo breweries in one day. This post provides details of my transit itinerary and some updates regarding the breweries…
Update July 2015: Slippery Pig and Valhöll have moved to downtown Poulsbo and their taprooms are open seven days a week (check their websites for hours). There is no Sunday transit service between the Bainbridge ferry and Poulsbo; on Saturdays the last bus back to the ferry is 4:00 pm, a little too early for my liking. However, with extended weekday brewery opening hours and transit service available Mon-Fri Poulsbo is one of the most fun Fueled by Beer trips you can make from Seattle (if time allows don't forget to stop at Bainbridge Island Brewing along the way).
Update March 2017: the Hare & Hounds pub has closed. With the Slippery Pig and Valhöll brewery taprooms now located downtown, loss of the pub is not such a big deal. Tizleys is still worth visiting though – on a nice day sitting out on their balcony is fantastic. Unsurprisingly, Sound Brewery eventually outgrew their original space, which is now the home of Rainy Daze Brewing who acquired the kit from the defunct Battenkill Brewery. Sound Brewery now has a large production facility and separate taproom/restaurant both located on the main road – Viking Ave (see map below). Oh, how I wish we could revisit Poulsbo today – the early promise of 2011 has clearly been fulfilled.
---
The brewery and tasting area is located at Red Rooster Farm (they've moved – see update above) along a narrow gravel road off Finn Hill. To get there from Sound Brewery (approx 1 mile) walk back along Viking Avenue the way the bus came to the major intersection, turn left, and proceed up Finn Hill. Use the sidewalk on the left side and as you pass the new church on the left, notice the bus stop – you'll use it later.
After the new church look for the paved side road on the left (opposite the entrance to "Staffordshire") that quickly turns into an unpaved gravel track.
There may or may not be a Slippery Pig sign directing visitors from Finn Hill. Either way, walk straight along the gravel track (ignoring any buildings along the way) to the Slippery Pig tasting area (it's obvious when you get there – the old horse box points the way).
With any luck 3rd generation farmer and brewer extraordinaire, Dave Lambert, will be on-hand to talk about his beer and how he makes it. Basically Dave takes whatever grows on his farm and he finds a way to incorporate it into his beer. Nettles, Kiwifruit, Dandelions, Squash, Rhubarb – all have been turned into a Slippery Pig beer – and every one is killer good. There is also a fantastic homemade cream soda for the kids.
---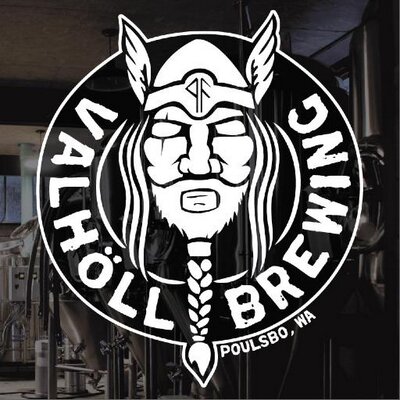 Jeff Holcombe and Co have moved their Asgard of superb beer, Valhöll Brewing (see update above), to 18970 3rd Ave NE located downtown across from the new City Hall. For my most recent visit I was accompanied by The Daughter and Valhöll's most amazing brew on the day was the homemade Oatmeal Raisin Soda – literally a cookie in a glass. It was possibly the most amazing soda concoction either of us have ever tasted.
As for me, I had some great tastes too. Stouty from CO2 and Nitro – excellent – but the standout was The Monster, an Imperial IPA. I want more of that!
---
Take the #44 (Poulsbo Central Loop) bus to Viking & Liberty and walk the short distance south on Viking to Bovela Lane. Update: The taproom and then the brewery, both located on the right (west) side of the street, are impossible to miss.
During the past year or so Sound Brewery has enjoyed phenomenal success winning a bunch of awards and expanding its reach further and further from the home base in Poulsbo. And every bit of it has been well deserved: as I said in my original post they lead the charge in their home town and I suspect they are now getting close to leading the charge among all brewers west of the Sound.
All this success has triggered expanded production capacity and the start of bottling for even wider distribution. And growth is reflected at the taproom too: back in August 2011 six brews were on tap; most recently, in July 2012, I encountered twelve (including a kick-butt non-alcoholic ginger ale). And they're all as amazing as ever; I don't think Sound Brewery knows how to make a so-so beer and I don't see their growth ending anytime soon.
---